Treetop Eco-Adventure Park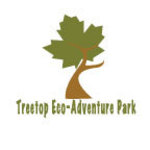 Treetop Eco-Adventure Park is a tree-to-tree Zipline Park in the GTA, channel your inner Lara Croft or Indiana Jones by ziplining down our 734′ BIG Zip or traverse our Canyon Suspension Bridge at over 60′ in the air. New 2015 COMBAT ARCHERY outdoors, combine the ancient art of archery with paint ball like tag.
Click or tap the Google logo to open in Google Maps.