Quality Suites Toronto Airport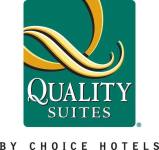 The Quality Suites Toronto Airport located within minutes of Toronto's International Airport, is an all suite, full service hotel offering spacious two bedroom suites separated by French doors. One room is a large comfortable living area furnished with a sofa bed, dining/work table, and a TV. The private bedroom has a king size, second TV, vanity area and telephone. All suites include coffee maker, mini bar or icebox, data ports, high speed, and wireless internet are also available. The on-site restaurant is Graffiti's Italian Eatery and Saloon serving all three meals.
Click or tap the Google logo to open in Google Maps.